Feature Headboards: Why They Are in High-Demand
Feature Headboards: Why They Are in High-Demand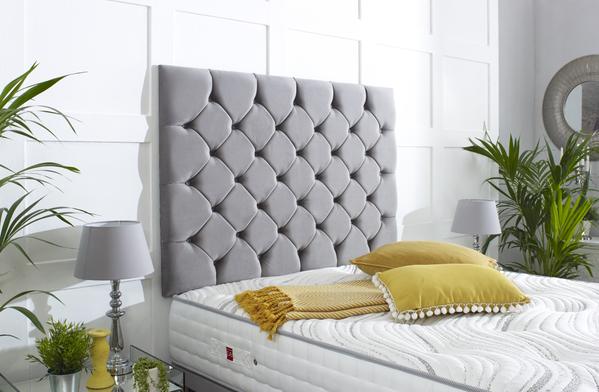 To some people, headboards are simply an unnecessary add-on; whether you own a divan bed or an Ottoman, it is entirely possible that up until this point, you weren't convinced that this was an investment that was worthy of your attention. However, once you delve a little deeper, you will start to discover that there is a world of potential to be explored when you elect to include a headboard in your bedroom. Below, you can find Divan Bed Warehouse's modern take on why, above all-else, your interest should be firmly-focussed on getting a piece de resistance feature headboards as soon as possible.
Warmer Room
In case you weren't already aware, one of the lesser-known benefits associated with having a upholstered headboard sitting at the end of your bed is that it can drastically improve the overall temperature of your master bedroom and also can become a focal point. The reason for this is that it acts as a barrier; when the freezing cold temperatures arrive in the middle of winter, this accessory will prevent this from having a negative impact on your comfort whilst sleeping. If you are someone that wants to remain warm-and-toasty throughout the year, this is undoubtedly a purchase that you don't want to miss out on.
Visually Appealing
It would be impossible for us to discuss the seemingly-endless number of selling-points that are attributed to top-of-the-range headboards without pausing to mention the aesthetics of these units. Manufacturers have invested significant time-and-effort into producing these to the highest standard, and it is safe to say that this is evident in the results. Whether you elect to go for a leather unit, or desire one that is adorned by intricate patterns, these will offer a marked upgrade to your existing decor.
Relaxing Potential
Whether you are trying to read a book prior to switching off for the night, or are watching the news to catch up on the day's events, the chances are that you will want to make yourself comfortable when you are relaxing in super king twin beds. Unfortunately, this is made rather-tricky if you do not have a headboard acting in your best interests. Sitting against your solid concrete wall, it is safe to say, is less-than ideal. To try and make your life a little easier, we recommend that you fit a headboard. Once in place, you can be rest-assured that you won't look back.
Why Come to Divan Bed Warehouse
Although you are spoiled for choice in terms of retailers that sell high-end upholstered headboards, in reality few come close to the size options available within the Divan Bed Warehouse catalogue. We have worked long-and-hard in order to routinely cater to the needs of our customers; if you were to take a glimpse at some of our Trustpilot testimonials, you would see that we are always able to provide a first-class experience. No matter your personal preferences, we won't leave you empty-handed.
Who Are We?
Have you been browsing through floor-standing headboards recently, but have been unable to find a unit that truly speaks to you? Are you becoming sick-and-tired of perusing through these vertical panels, and wish to come to a successful solution sooner rather than later? If these scenarios sound familiar, the chances are that you would be well-suited to enlisting the help of the Divan Bed Warehouse friendly team.

We have been operating in this industry for more than fifteen years; during that time, we have been blessed with a steady-stream of customers, all of whom have been wholly-satisfied by the services that we have provided. Whether you're after a Cambridge headboard, or think that your mattress could do with being replaced, a quick call to us on 0330 120 1123 will put you on the right path - of that, you can be certain.