Why a Statement Divan Headboard Are So Popular
Why a Statement Divan Headboard Are So Popular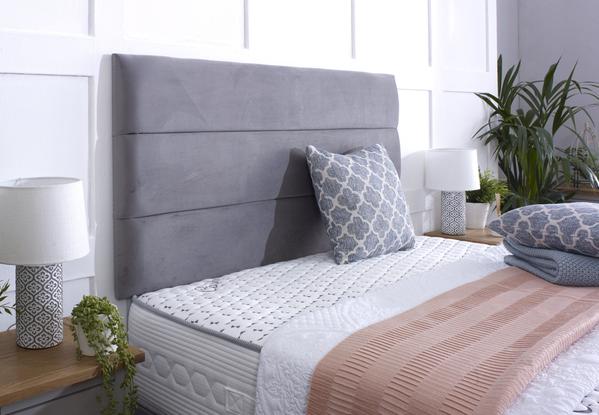 Unless homeowners have a small or awkwardly shaped bedroom that doesn't allow them to have a big headboard, they will usually choose to use this bed accessory. There are so many benefits to having a headboard and not only does it make sitting up in bed much more comfortable, but it can help to keep you warm as you sleep during the winter months too. Not to mention, a headboard prevents wear and tear on your wall as well.

Unlike lots of other types of bed frames, divan bases typically come with removable headboards and this is one of the many reasons why homeowners are drawn to this type of bed. These days, there is such a huge range of floor standing headboards on the market and it is becoming increasingly common for homeowners to make a design statement with this accessory. If you're contemplating a statement headboard and you're wondering why they're so popular and need help, below are some of the most notable reasons.
Makes the bed the focal point of the room
When you have a statement headboard, whether this is a bright colour, a large size or a button pattern, it will instantly catch the eye of anyone who walks into your room. The divan headboard won't just add the finishing touch to your bed, but it will add visual interest to the whole space and it will ensure that your bed is the focal point in your bedroom. Upholstered headboards really can transform a simple divan bed and instantly make it unique and luxurious.
Creates a cosy sleeping area
Often, divan headboards are made with a timber base that is topped with high-density foam and wrapped in premium fabric, so not only does it look amazing, but it makes the whole bed feel much cosier too. A floor standing headboard will prevent a bed from looking bare against the wall and it will create a more inviting sleeping area. It will instantly add texture, warmth and comfort to a bedroom as well as style to the overall interior design.
Adds some personality to the space
It isn't uncommon for homeowners to keep their bedroom's decor fairly simplistic and many will use neutral or monochrome colours on the walls to prevent them from needing to redecorate when interior trends change. Having a statement divan headboard is a brilliant way to add some personality to your bedroom when your decor is quite minimalistic and it will help to create a space that you love to spend time in.
Prevents the need for accessories on the walls
Having a statement headboard on your divan bed base can stop your walls from looking stark and the space from feeling lifeless. A headboard can be an accessory itself, especially when it features an interesting button pattern, and it can prevent you from needing to hang pictures or art on the wall above your bed. This can be particularly useful if you're someone who struggles with these finishing touches or who doesn't have a knack for interior design.
Can easily be changed when redecorating
Many will opt for a bold and eye-catching floor standing headboard because they know that they can simply change it should it no longer complement their bedroom. Due to the fact that the headboard isn't attached to the divan bed, it couldn't be easier to replace whenever you redecorate this room and you will easily be able to find a design that works with your new decor. Changing the headboard is an inexpensive way to give your room a new lease of life too.
Purchasing a statement headboard
All in all, whilst you can purchase a divan bed base without a headboard nowadays, it is easy to see why this accessory is so popular amongst homeowners. It is undeniably worthwhile purchasing a divan headboard to pair with your bed frame and you can guarantee that it will make such a huge difference to the look and feel of your bedroom. No matter what your preferences may be for a statement headboard, you won't struggle to find the perfect solution for your room.

When you need help searching for somewhere to purchase a statement divan headboard from, be sure to explore the Divan Bed Warehouse website. Within our headboard collection is a huge variety of designs and whether you have a traditional or contemporary bedroom, we will have a design that meets all of your individual needs. You will never have to question the quality of our upholstered headboards either and we can assure you that you will never be disappointed with the products that you receive from us.
Related Article: Why You Shouldn't Overlook The Importance Of A Headboard