Things To Consider When You Want To Buy Divan Bed
Things To Consider When You Want To Buy Divan Bed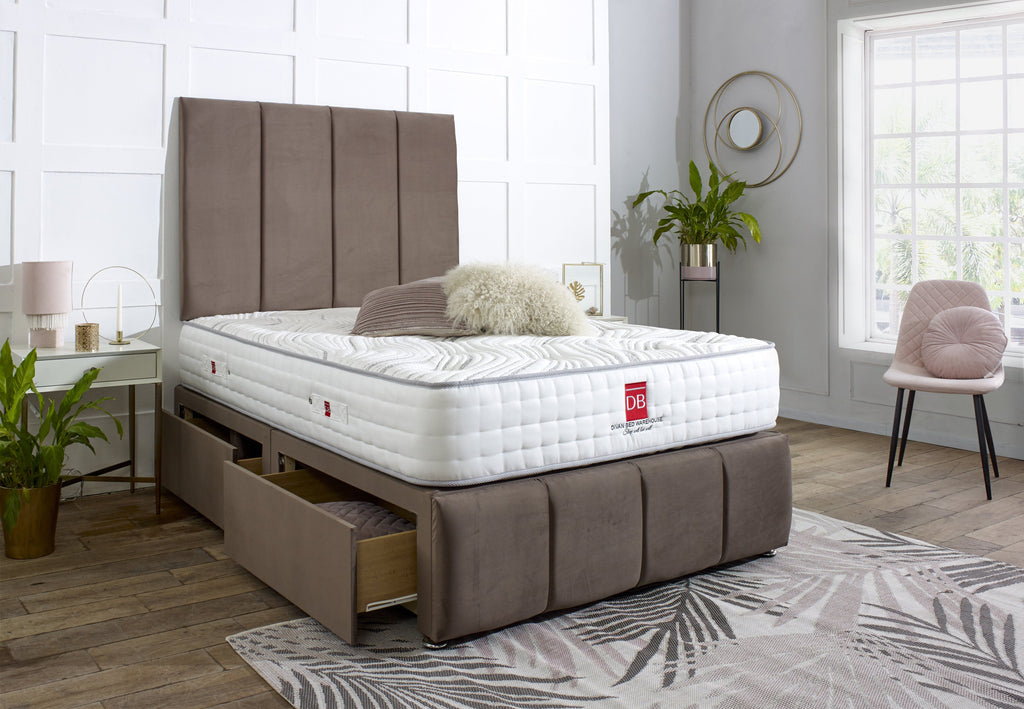 When wanting to purchase a new bed for their master bedroom, lots of homeowners will opt for a divan bed these days. Simply put, a divan bed features a specially designed upholstered bed base with a matching headboard and mattress. There are so many benefits to choosing this type of bed over a standard bed frame, from their space-saving advantages to their additional storage space, and it is no surprise that they are such a popular choice.

Due to the popularity of divan beds, there are lots of different designs on the market and when you're trying to find a divan bed for your master bedroom, you will be spoilt for choice. To help you narrow down the many divan beds you have to choose from and to help you ensure that you're investing in the best new bed for you, below is a list of things to consider when you're buying a divan bed.
The size of the bed
One of the first things to think about when you buy divan bed is the size you're wanting. The majority of divan bases will be available in every size from a small single through to a super king size, so you really can have any size that you'd like. Be sure to take some measurements before you settle on a size and check that it will be in proportion with your bedroom.
The colour of the upholstery
Many are drawn to divan beds because of their upholstered base and, of course, when you're buying a divan bed, you will need to think about this upholstery. Consider which colour you think would work best with the interior design of your master bedroom and the other pieces of furniture you have in this space. Also, take into consideration the type of fabric you want too, from linoso and chenille to velvet and wool, there are plenty to choose from.
The style of the headboard
When you're buying a divan bed rather than just a divan base, you will also need to think about the headboard style too. As you may expect, headboards come in all shapes and sizes nowadays, so consider what would work best in your master bedroom. Sometimes, you can get matching headboards and footboards too, so think about whether this is something you'd like.
The type of storage under the bed
The vast majority of divan beds will feature some sort of storage in the divan base and you should consider which storage options would be best for you. Generally speaking, most divan beds on the market will have storage drawers, often on both sides of the divan bases, but it is also possible to buy divan beds with ottoman storage too. Think about what you're most likely to store under your bed so that you can ensure you choose the most suitable storage option.
The depth of the divan bed base
It can be easy to overlook, but you should also consider how deep you'd like the divan base to be as not all beds are the same in this regard. When you're unsure as to what would be best, think about the size of your room and the height of your ceiling, for example, low divan bed bases can work really well in small rooms with low ceilings and vice versa.
The mattress for the bed
Of course, whenever you're buying a new bed you will need to think about the type of mattress you'd like as well. Divan beds have matching mattresses, but you will still have a few options to choose from, such as a pocket sprung mattress or memory foam mattress or an orthopaedic sprung mattress. Your mattress choice will affect your night's sleep, so don't rush this decision.
Buying a divan bed for your master bedroom
It is fair to say that
divan beds
are one of the best options available when you're wanting a new bed for your master bedroom and you can guarantee that this type of bed will be the perfect addition to your room. Hopefully, by considering everything mentioned above, you will have a better idea of what your needs and preferences are for your new bed and you can ensure that you're investing in the best possible
divan bed
for you to ensure a great night's sleep.
When searching for somewhere to buy a divan bed, be sure to visit the
Divan Bed Warehouse
website. We have a wide range of high-quality beautifully crafted divan beds available and you can trust that we will have something that is perfect for your master bedroom. We are so confident in the quality of our products that when you buy a divan bed from us, you will receive a 14-night money-back guarantee, so you can have complete peace of mind when placing your order. If you have any questions about the beds on our website, feel free to
contact us
today.