Tips For Making Your Bedroom Look And Feel Bigger
Tips For Making Your Bedroom Look And Feel Bigger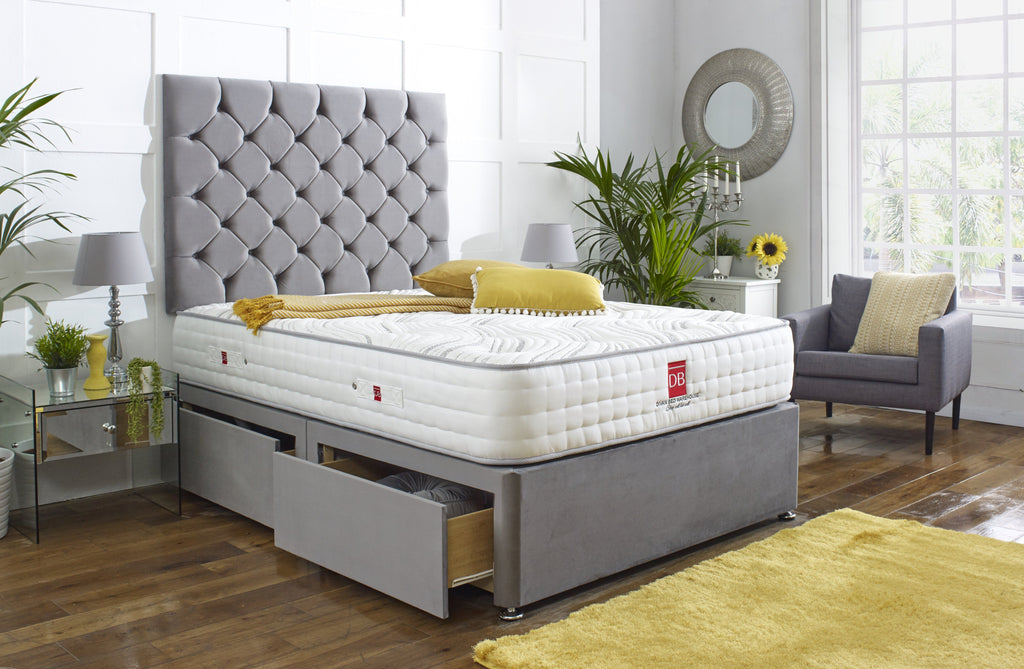 Not everyone will have a huge bedroom and when you don't have much floor space to play around with, you may feel as though the room seems really cramped. Your bedroom is supposed to be a sanctuary you can escape to at the end of a busy day, but when it's overcrowded you might struggle to relax in this room. Thankfully, there are lots of ways you can make your bedroom both look and feel bigger, and the smallest changes can make such a big difference in this regard. Below we have put together a list of useful tips that can help you transform your bedroom.
Keep the space clutter-free
When you keep your bedroom tidy, it will make it seem much bigger. Not having your belongings scattered across the space and ensuring everything has a home will help the room to feel more spacious, so plenty of storage space is essential. Get creative with your storage solutions and consider opting for pieces of furniture that are multi-functional to save floor space. For example, a divan bed is a brilliant storage bed to use in any sized bedroom.
Cut back on pieces of furniture
The more pieces of furniture you have in your bedroom, the smaller the space will seem. Filling the room with furniture will make it feel cramped and having free floor space is key to making a bedroom feel bigger. Ensure you're only using pieces of furniture that you actually need and that you're opting for smart solutions. Again, a divan bed base with storage is a great choice as it will help to prevent the need for other storage solutions, such as; chest of drawers and shoe racks. It can even help you free up some space in the storage solution you currently have too.
Use light colours
It can be really beneficial to use a light colour scheme in your bedroom if you're trying to make the space look and feel bigger. Light colours are known for helping light bounce around a room and the right colour scheme can transform a space. Even if you paint the walls white or cream, you can still use accessories to add some personality to your bedroom. A bed's headboard is a great way to bring some colour into the space, for example.
Make the most of every inch of space
No matter what shape or size your bedroom may be, it is likely that you currently have some wasted space that could be utilised. Say, for example, you have a metal bed frame, if you're not storing items under your bed then you're wasting this space. A divan bed base with storage drawers can help you to make the most of the wasted space under your bed. This extra storage space is always advantageous to have and you can guarantee that you will easily be able to fill a divan bed base with a range of different belongings.
Avoid bulky furniture
Some pieces of furniture are essential in a bedroom and in order to make your room seem more spacious, you should try to choose minimalist furniture. Swapping your bulky pieces for streamlined alternatives will provide you with more space and you might be able to change up your current layout. Many don't realise that divan beds are smaller than standard bed frames and the few inches of space you will save can make such a big difference.
Making your bedroom look and feel bigger
If you're wanting to make your bedroom seem more spacious, hopefully, the tips above will be useful. When searching for somewhere to purchase a divan bed for your bedroom, be sure to look through the Divan Bed Warehouse website. We stock a brilliant range of divan bed bases with storage drawers and you can customise the design to meet your individual needs. As a straight to market British manufacturer and retailer, you can rely on us to supply you with the high-quality, contemporary and beautifully crafted bed you're looking for. If you have any questions about the bed essentials on our website, feel free to contact us today.