What is an Ottoman Bed Base?
What is an Ottoman Bed Base?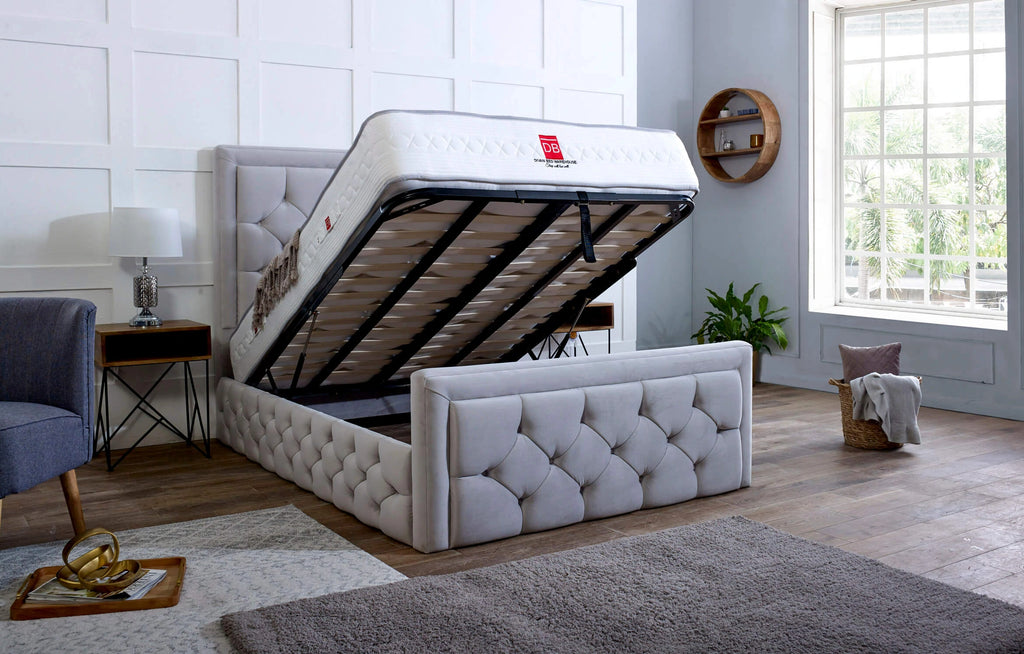 Ottoman Beds have grown in popularity over the last few years, as more and more people are beginning to appreciate their huge storage capabilities. With limited space in the bedroom, one of the best ways to store all of your possessions and items is to have an Ottoman bed that comes with underneath space.

Below, the Divan Bed Warehouse team has put together a short post that goes into depth about what an Ottoman bed base is, and the various options available in our store. We have superb options on offer at unbeatable prices.
Need-To-Know about Ottoman Bed Bases
In case you have never encountered an Ottoman bed before, then allow us to introduce you to this type of product. An Ottoman bed is a popular option for homeowners who want to have increased storage in their bedroom, as they come with more storage space than a typical bed.

These types of bases have a top part, which can be lifted up, allowing you to store items within it. How an Ottoman base works is it can move up and down seamlessly thanks to its pistons. When you have an Ottoman base, you will be able to move it up and down without any problem at all.
Our Ottoman Bed Options
Here at Divan Bed Warehouse, we provide a number of Ottoman Beds in Leeds at competitive prices. Our Luxury End Lift Ottoman Storage Divan Bed Base is a popular option, giving up to 400% more under bed storage compared to a conventional Ottoman Divan base with drawers. This type of bed is manufactured from the highest-quality raw materials and timber, so it is durable and will stand the test of time. It is constructed to last with solid MDF wooden sides, and a reinforced slatted wooden top and robust corner joints.

Another practical Ottoman bed to invest in is the Luxury Side Lift Ottoman Storage Divan Bed Base, which is a side-lifting bed base made using the best raw materials and timber available. It has pistons which lift up to 75kg, so you can have a heavy mattress and it will be lifted with ease using one of these beds. You can purchase any of our Ottoman beds in Leeds in a variety of fabrics and sizes, according to your personal requirements. There is plenty of choice within our collection for you to pick from.
Why Visit Divan Bed Warehouse?
There are many reasons why you should come to Divan Bed Warehouse if you're looking for Ottoman Beds in Leeds. First and foremost, we offer free 2-man delivery, which will deliver your order to your location within 5-10 working days. You will receive your order speedily in the optimum condition. What's more, we run regular sales promotions so you will get even better value for your money when you shop with us.

Our massive early Spring sale has loads of excellent discounts with mattresses and Divan bed sets beginning from just £99. There is also a 14 night money back guarantee, as we're so confident in the quality of our products. With a plethora of five-star reviews and testimonials from previous customers, you can be certain that you'll receive an exemplary service when you come to Divan Bed Warehouse.
Looking for High-Quality Ottoman Beds in Leeds?
If you are interested in purchasing an Ottoman bed, then Divan Bed Warehouse is the ideal online destination for you. We have a diverse range of Ottoman beds available, with superb prices across our entire collection. No matter your personal Ottoman preferences or requirements, we're confident that we've got exactly what you're looking for.

Visit the Divan Bed Warehouse website today to explore our line of Ottoman beds in more depth. To contact us directly, please email us at sales@divanbedwarehouse.co.uk or call us on 0330 120 1123. We can answer any questions you may have, provide you with additional details about any of our Ottoman beds, and help you find the right bed for your needs.