The Different Types Of Ottoman And Divan Storage Beds
The Different Types Of Ottoman And Divan Storage Beds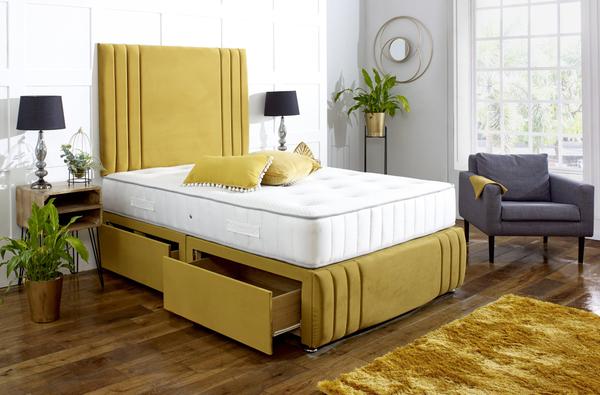 Instead of opting for a standard metal or wooden bed frame, is it becoming increasingly common for homeowners to choose 'storage beds'. This category of beds is inclusive of both ottoman beds and divan beds, both of which provide you with convenient storage space underneath the bed base and mattress.

There are so many different types of ottoman and divan storage beds available on the market these days, and there really is a solution for all homeowners no matter whether the bed is going in their master bedroom, their spare bedroom or their children's bedroom. If you're interested in storage beds and you're wondering which type of bed base would be most suitable for your intended use, below we have looked into the various different options available in more detail.
End-opening ottoman bed
This is one of the most commonly seen types of ottoman storage beds and end-opening beds are designed to be lifted at the foot of the bed. This type of bed works really well in smaller bedrooms as you don't need floor space around the bed to pull out any drawers. This is also a popular choice amongst people with bedside tables as lifting the bed base and mattress from the foot won't knock anything off of these.
Side-opening ottoman bed
As the name suggests, side-opening ottoman beds are lifted up from the side and they are a great alternative to end-opening beds. This type of ottoman base works particularly well in bedrooms where the bed is pushed into the corner of the room as you will be able to lift the mattress up towards the wall without any problems, It is really easy to get items in and out of this type of ottoman base once it is lifted too.
Half-opening ottoman bed
It is possible to purchase storage beds that are a combination of both ottoman bases and divan bases. These beds are split in half, so to speak, and they lift at the foot of the bed but have drawers at the head of the bed. This type of bed offers the best of both worlds and it is a brilliant option for awkwardly shaped bedrooms or bedrooms with sloping ceilings as you won't require as much vertical space to fully lift the mattress.
Side drawer divan bed
When opting for a divan bed base, there are a few different drawer configurations to choose from and one option is; side drawers. Simply put, this base design is where there are two adjacent drawers on the same side of the bed. Again, when your bed is pushed into the corner of a room or against a wall, this type of bed works really well and it will enable you to easily use the storage drawers.
End drawer divan bed
Another drawer configuration for divan storage beds is; end drawers and this is where you have a drawer on either side of the foot of the bed. This is another brilliant option when you have bedside tables as it means you won't need to move these tables in order to fully open the storage drawers. If you don't necessarily require lots of additional storage space, this is a good option to explore.
Four drawer divan bed
One of the most popular divan storage drawer configurations is; four drawers. This bed base design has two drawers on either side of the bed, providing you with the maximum amount of under bed storage. Often, four drawers aren't available on single beds, but they are an option for all other sizes from doubles to super kings. This type of divan storage bed will prevent any of the space underneath the base from being wasted.
Purchasing an ottoman or divan storage bed
When you're wanting to purchase a storage bed, hopefully, the information above will be useful to you. Now that you know more about the different ottoman bases and divan bases available, you should find it slightly easier to narrow down your options and select the best storage bed for your individual needs and requirements.

Once you have decided which type of bed will be best for you and your bedroom, be sure to visit the Divan Bed Warehouse website. We have a brilliant selection of both ottoman and divan beds to choose from and we pride ourselves on having something to suit everyone no matter what their sleeping or storage needs may be. Should you have any questions at all regarding the different types of ottoman or divan storage beds available, feel free to contact our experienced and knowledgeable team today, they will gladly assist you further.