The Right Modern Headboard Can Transform Your Bedroom
The Right Modern Headboard Can Transform Your Bedroom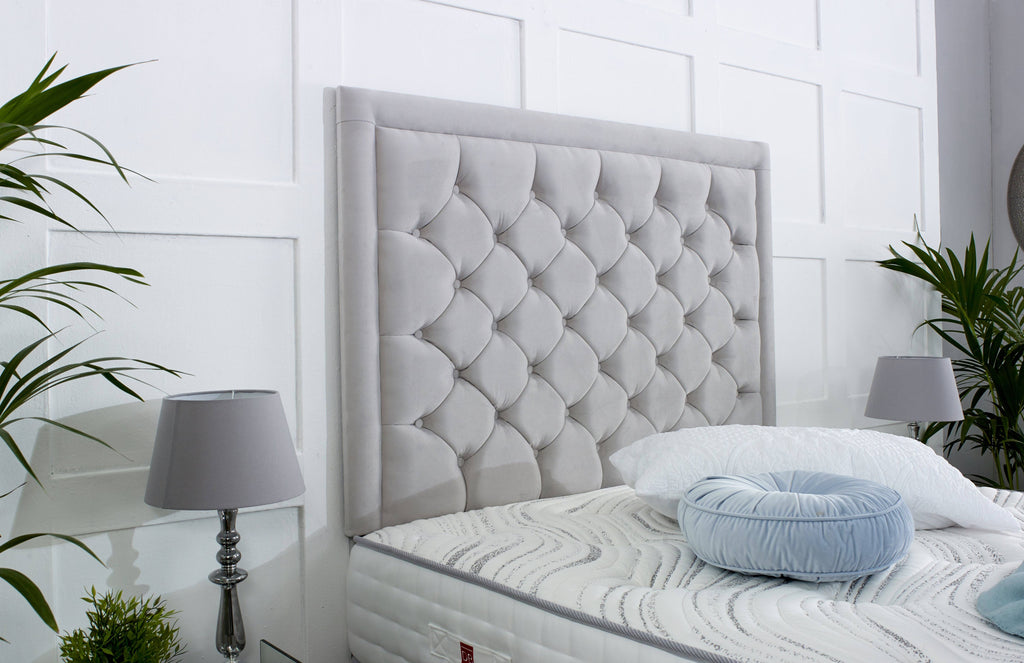 The majority of bed frames come with a headboard attached to the frame, however, divan beds are slightly different. Commonly, you can purchase this type of bed base without a headboard and you then have the option to accessories the frame with a freestanding headboard if you'd like to. There is such a brilliant range of upholstered headboards to choose from if you're interested in upgrading your divan bed base this year and the right modern headboard can completely transform your bedroom. Below are just some of the many reasons why you should consider using a headboard to improve your bedroom in 2022.
Modernise the look of your bed
Without a headboard, it is likely that your king size bed is quite underwhelming. Even if you have a comfortable mattress and you always get a good night's sleep, you might not necessarily like the way your divan bed base looks in your room.

When you purchase a modern headboard for your simple divan base, it will completely change the look of your boring bed. There is a brilliant range of colours and patterns to choose from when you're purchasing a headboard and you won't struggle to find a contemporary design that is perfect for your bedroom. Of course, because the headboard isn't actually attached to the bed base, you can always replace it in the future if you decide to redecorate as well.
Give the room a focal point
Purchasing a modern headboard is a really inexpensive way to give your room a whole new lease of life. Every bedroom needs a focal point and often, the bed will be the first thing that catches your eye when you enter the room. The right headboard can make sure your bed is standing out and drawing attention for all of the right reasons.

Whether you choose a bold colour or an intricate button pattern, a modern headboard can make a design statement and help to improve the overall aesthetics of your bedroom. This one simple bed accessory will add so much visual interest to the space.
Prevent the need for wall decor
No matter what style your bedroom is or what colour scheme you have chosen, the right modern headboard will prevent you from having to decorate your walls. Due to the fact that a headboard will be up against one of the walls, it will help to stop all of the others from looking bare and it will instantly make the space feel finished.

Instead of having to spend a lot of time and money on the right pieces of art or decorative items for your bedroom walls, an upholstered headboard can add lots of personality to the space too. You can express yourself through the design you choose and you don't need to have a knack for interior design to buy a beautiful headboard.
Make your room feel cosier
Your bedroom should be a sanctuary that you love to relax in after a busy day, but it may feel quite cold without a cosy bed. When you choose to accessorise your divan bed base with a modern headboard, you can instantly make the whole room feel more welcoming.

As you may expect, your bed will be much more comfortable when you have a headboard too and you can sit up in bed without having your back on the cold wall. Even if you have chosen a minimalistic look for your bedroom, you still want the space to be warm, inviting and full of texture. So, a headboard really will be the perfect finishing touch to your bedroom.
Choosing a modern headboard for your bedroom
Should you be interested in purchasing a modern headboard for your divan bed base this year, take a look at the Divan Bed Warehouse website today. In addition to supplying divan bed sets, we also have a brilliant selection of freestanding headboards to choose from with similar technologies. Regardless of your individual taste and preferences, you won't struggle to find a design that is perfect for your bed in our collection. If you have any questions or you need some assistance choosing a new headboard for your bed, our team will be happy to help, so feel free to get in touch.
Related Article: Divan Beds Vs Standard Bed Frames - What You Need To Know