Optimising Space In A Small Bedroom
Optimising Space In A Small Bedroom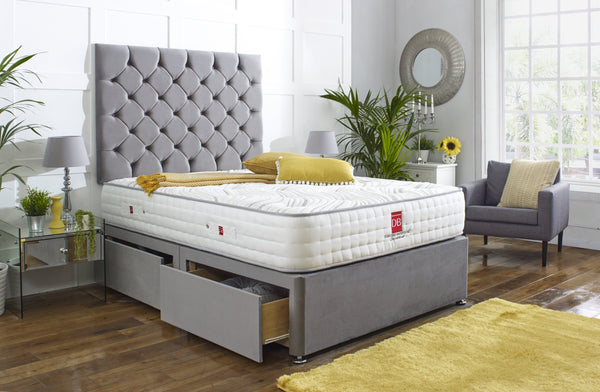 When you have a small bedroom, understandably, you may find it quite difficult to purchase bedroom furniture. Trying to squeeze everything from a wardrobe and a chest of drawers to a dressing table and a bed into such a small space isn't always easy, and you may be wondering how you can optimise the floor space you do have. Thankfully, there is a brilliant option to consider; a divan bed. This type of storage bed really is the perfect solution for any small bedroom and below we have looked into some of the main reasons why.
Smaller than standard bed frames
Traditional bed frames are designed to be bigger than the mattresses they're paired with so the mattress can sit inside the frame. However, divan beds are designed to be the same width and length as the mattress and the mattress will simply sit on top of the bed base instead. This means that the whole divan bed will be a few inches smaller than a standard bed frame, which is really useful in any small bedroom.

Not only will a divan bed help you to save floor space in your bedroom, but you may even be able to buy a bigger bed if you opt for a divan base too. There are lots of small divan beds available, including; small singles, singles and small doubles, so you can look at the measurements and see which would be best for you and your bedroom.
Provide plenty of storage space
Even if you opt for the smallest divan bed available, you can still have drawers integrated into the base. One of the biggest advantages of this type of bed is that it provides you with lots of convenient storage space under the mattress. Often, you can have two side drawers when you choose a small single or a single divan bed, however, you can have four drawers if you have the space for a small double. This extra storage space is always useful in a bedroom and it will help you make sure all of your belongings have a home.
Reduce the amount of furniture you need
Due to the fact that you can store some of your belongings in your divan bed base, you may find you don't require as many storage solutions in your bedroom. For example, if you choose to store clothes in your divan drawers, you might get away with not having a chest of drawers. When you don't need as many pieces of furniture, you won't have to overcrowd your bedroom and you can ensure you still have enough space to move around the room comfortably. Ultimately, the less furniture you have in a small bedroom, the better.
Prevent the space from feeling cluttered
When you store your belongings in your divan bed's storage drawers, keeping your bedroom tidy will be much easier. It goes without saying that when you haven't got clutter lying around in a small bedroom, it will instantly seem more spacious and decluttering can make such a big difference to both the look and feel of the space.

It's worth noting that you can purchase divan bed bases without headboards too, which can be useful for a really small bedroom. You can leave the space above your bed bare to help make the room feel less cluttered. The right divan bed really can completely transform a small bedroom and it will make this space more enjoyable to spend time in.
Finding a small divan bed for your room
If you think a divan bed is the best solution for your small bedroom, take a look at the rest of the Divan Bed Warehouse website today. We stock a brilliant selection of divan bed sets, divan bed bases, mattresses and headboards, and you can trust that you will always have a great night's sleep when you purchase from our site. If you're not sure which small divan bed you should purchase and you'd like some guidance from our sleep experts, don't hesitate to contact us. We can answer any questions you may have about the size of our divan beds and help you ensure you're choosing the right solution for the amount of space you have.
Related Article: Creating A Luxury Bedroom With A Divan Bed Set